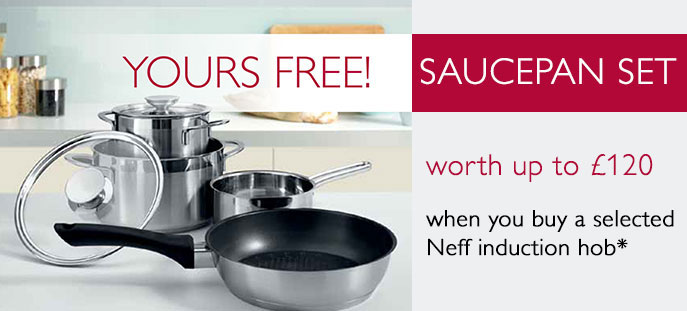 …when you purchase a Neff Induction Hob
Induction cooking is becoming an increasingly popular choice in today's kitchen. With a variety of features and benefits, it's worth considering one of the great new Neff ranges. They are fast and responsive, easy to clean and look great too. Whichever Neff Induction Hob you choose, you'll now have the added benefit of a great new set of designer saucepans to use with it.
The free 4-piece set of designer saucepans is stylish and suitable for use in a dishwasher and with induction hobs. Included in the boxed set are two twin-handled saucepans with lids, a covered single handled saucepan and a non-stick frying pan.
As a 5 Star Master Partner this offer is available throughout 2015!
​